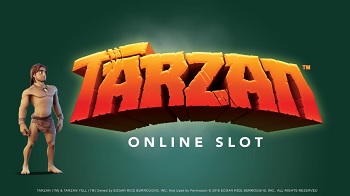 Tarzan's release is scheduled to take place in December, 2016. The theme is the one that you probably expect, based on the popular Tarzan, a man that was raised by great apes in the African jungles.
It's going to be one of the brand new games to play when you're home, during the winter holidays. It looks like a fun title from what we can see so far, with 40 pay lines used on its tall reels, which have 4 symbols each.
There are stacked symbols to be had inside, there are wilds, bonus games, free spins and even Rolling Reels. From what we know right now, there will be a jackpot of 200x the wager available.
What We Love
I love how the graphics of Tarzan were handled. The quality of the animated characters is good enough that I'd have no trouble believing that it was taken from some cartoon series that appeared on TV in the last decade.
It's a modern look that we're being proposed here, with the main character being shown in the middle of the jungle, right next to the reels.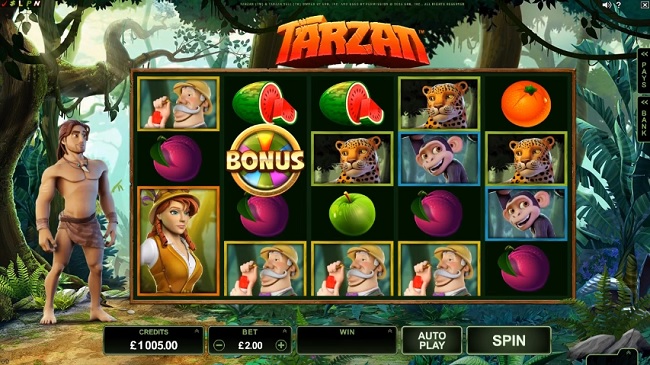 Those reels have images with Tarzan, with Jane, an old man, leopards, birds, monkeys and a bunch of fruits that are not going to be found in a jungle (watermelon, plums, apples and oranges).
Expect wild symbols to come through the Tarzan Logo symbols, and they will be capable of helping you form new combinations, or at least improve existing ones. The wilds are useful when they can substitute for another symbol, and they can do that if there are matching symbols on the rest of the positions of the pay line.
To access the bonus game, you need a symbol marked Bonus, with a wheel of fortune displayed behind it. This symbol can trigger its feature just by appearing in at least three locations, even scattered ones that don't share the same pay line.
You will be taken to a new screen at that point, where a wheel of fortune will determine through a spin the type of prize that you will get. The direct prizes you can get are the jackpot (200x the bet) or one of the smaller ones. The alternatives are a bonus game and free spins.
Should you get the free spins to start, there will be Rolling Reels and Growing wilds used inside, as extra features. The Rolling Reels are the ones that give you additional symbols during a spin, to replace the ones removed after they formed a combo.
What We Do Not Like
I prefer games to have only themed or relevant symbols inside, so if they just used jungle fruits on the reels, and removed the ones that have no business in Africa, I would've been fully satisfied with this game.
Worth Playing?
Tarzan will be fun to play, no question about that, and it looks like a promising new game from Microgaming already.
T&Cs Apply 18+