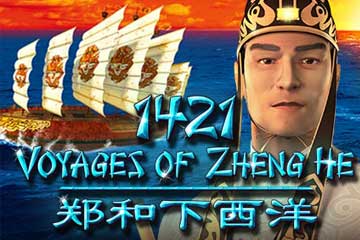 From 1421: Voyages of Zheng He, you should learn a little bit of Chinese history, the game being inspired by one of the great personalities of this country.
Zheng He is known as an admiral at the court of a Ming dynasty emperor, an explorer that lead huge fleets of ships to reach all corners of Asia and even East Africa.
He's a widely respected figure in Chinese history, and the game we have here appears to be inspired by the trip that he went on that has reached the coast of Africa.
The game gives you 88 lines on 5×4 reels. There are wild symbols, scatters, bonus games, free spins and multipliers inside, as features. The larger payouts reach 888 coins in the base game.
What We Love
A Chinese themed slot machine is not exactly a surprise these days, they're quite common actually, but I haven't seen one that offers the symbols that you will find in this case.
The symbols are related to the explorations done by Zheng He, and so you will find images of ships, of the admiral, of bells, jade gifts, jewelry and gold coins. The game doesn't lack the poker logos though, which start at the 10 and reach the A. The design quality is excellent, the graphics sending the point across quite well.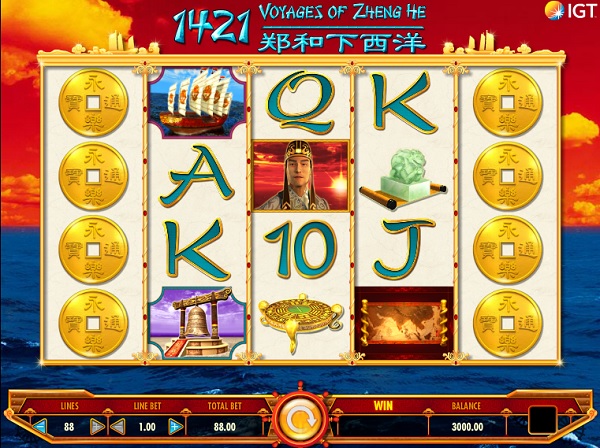 I would like to mention the wild symbol first, in terms of features that the game offers. It's a symbol that shows you a Chinese Gold Coin, the kind with a square shaped hole in the middle.
You form the better paying combinations of the game with its help, getting up to 888 coins from five of them. This is also a wild, and so it can be a substitute that gets you to form more combinations.
One other major side of this game is the scatter symbol, which appears to be showing you a Dragon flag. The middle reels are the ones that get it, and you will need the scatter on all three, before you are offered access to the Player Decision.
The Player Decision is a feature which allows you to pick one of three types of free spins, or a bonus game. The bonus game involves a choice between three cups, and getting a prize of up to 102x the total bet.
The free spins have for you 10 to 20 rounds, with multipliers that can be at different values, always starting from 1x, but reaching values of 3x, 5x or 8x (the higher the maximum multiplier, the smaller the number of free spins offered).
What We Do Not Like
There are elements in the design that I didn't enjoy as much, mainly related to the poker cards which were present.
Worth Playing?
1421: Voyages of Zheng He has some generous features to trigger for you, along with good graphics and even big payouts in certain situations.
T&Cs Apply 18+