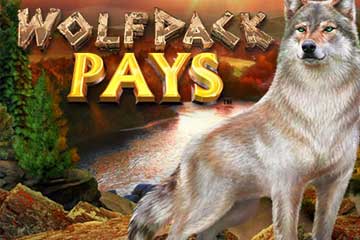 Wolfpack Pays is a wolf themed slot machine as much as it is inspired by nature's beauty. You will see the former in the symbols, while the latter is visible in the background image, always showing thanks to the transparent reels.
The focus on the wolf is not as strong as it would be in other games though, only two symbols having this creature, while another one has an eagle on it.
That means a total of three themed symbols which are available here, an amount that nobody could be satisfied with. Despite its small number of themed symbols, the game manages to offer a few good features, and it has 5 reels, 243 ways to win, plus payouts of up to $1,600.
What We Love
The part of the design that is inspired by nature or by wild animals is very well done. Look at the background picture, and you will notice a gorgeous view of a forest and a river, the viewing position being from somewhere above, from a hill or a mountain.
The quality of the background picture is excellent, and it helps the game, making it much more attractive than it would be without it. The reels do have only three themed symbols on them after all, while the non-themed icons are four.
One of the things to pay attention to in this game is the presence of the 243 ways to win, but also the fact that only 7 symbols are part of the game, while others will have 10 to 13.
The fact that there are fewer types of symbols present here should mean that you will find it easy to form combinations, the odds improving significantly. Since ways to win are used instead of paylines, the symbols only need to be on consecutive reels starting from the left, and the combo will form.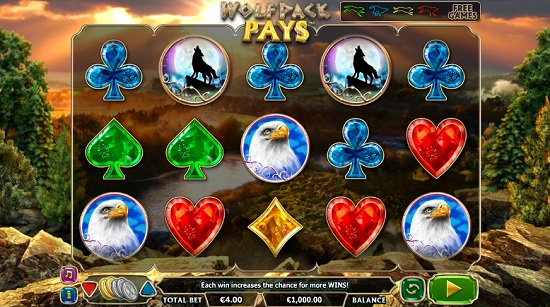 >>> Play Wolfpack Pays Mobile Slot Now – CLICK HERE <<<
Having winning combinations doesn't just bring you prizes in this slot. It also triggers a free spin. If you have another winning combo during that free spin, you will retrigger the feature. This can keep happening up to four times, as part of a feature called On a Roll. After the 4th free spin that you get like this, you trigger the full feature of free spins.
While still in On a Roll, you get new wilds on the reels for each new round you trigger. You start off with the 3rd reel, then you activate the 2nd and 4th reels, and finally the 1st and 5th reels as well.
The free spins feature is called Wolfpack Pays. It will bring you free spins that will go on for as long as you have Paw Tokens available. You start with three Paw Tokens, and you lose one for each spin that doesn't have a win for you.
What We Do Not Like
The big payout, of only $1,600, doesn't seem satisfying enough, but given the slot's ways to win, small number of symbols and the fact that you get a free spin for each winning spin, it's completely understandable why they couldn't give more.
Worth Playing?
I think it's a great game, and that's mostly due to the features and the way it offers so many free spins.
T&Cs Apply 18+