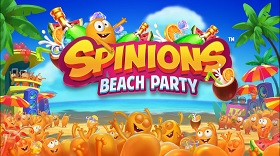 Spinions Beach Party is a title which is going to be released in 2016 by Quickspin, the exact date they announced being on June 14th. The game has a theme that plenty of people will enjoy, being based on popular characters from certain animation movies.
Their inspiration comes from the Minions, as you might've guessed. The developers simply didn't have the official blessing of Universal Pictures to use that name or the exact image, so they went ahead and created copies which resemble the originals. They have a similar look, the same type of humor that is so easy to enjoy, and the action takes place on a beach obviously.
What We Love
First of all, the focus of the game is mostly on the Spinions, the beach being only the location where they have fun. I enjoyed the type of humor that is used here, and to give you just one example, the intro video that Quickspin used to announce the game had a couple of Spinions that were running from the ocean, and after them came another Spinion that had tied a shark fin to his back, so that he could scare the others. It's that kind of humor that you can expect when Spinions get involved.
The action in this game takes place on a beach, itself done in cartoon style, and the reels which will spin before you will have mostly different types of cocktails that are worthy of a beach party.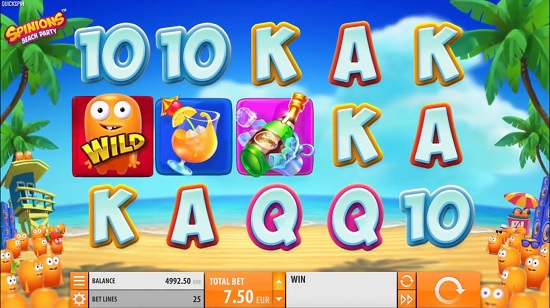 >>> Play Spinions Beach Party Mobile Slot Now – CLICK HERE <<<
The features that were announced for this game also deserve some attention. The presence of two Spinions on a reel, during the same spin, will trigger a respin feature, where the two are locked in place for the duration. The appearance of extra Spinions at this point will prolong the respin feature, and they will be sticky as well.
Free spins are available as well, and they will take the party away from the beach, the new location being a club. Spinions will all act as wilds and they will be sticky when they appear during free spins.
What We Do Not Like
There is quite a bit of information missing at this point, so we don't know everything we need about this game. We'll see if there are enough features in the game, or if the payouts are high enough to make it attractive.
Worth Playing?
Spinions Beach Party looks like a promising slot machine, and I can't wait for it to be released, so that we can check out a few of its cons as well, not just the pros.
T&Cs Apply 18+