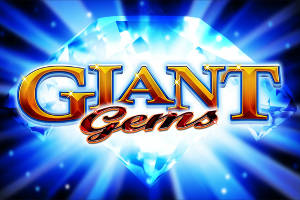 Giant Gems is a pretty unimaginative slot machine, but only if we look at its theme and the quality of its design. It's another matter entirely if we choose to focus on the features, with Giant Gem icons being used on its reels.
The theme is based on gemstones, which are often chosen for slot machines as low paying icons, but rarely get a slot machine all for them. The game was created by developers from NextGen Gaming, and it gives you 10 paylines on 5 reels, plus the chance to take home prizes of $10,000.
What We Love
The game might have only 10 lines, but there are pros as well to it. One of them is the presence of the combinations on paylines in positions which in other slot machines are not allowed. Usually, a slot will require the player to form combos going from left to right, and in order. Sometimes, the combinations will be allowed to start from the right as well.
In Giant Gems, you can start it from both sides of the reels, plus you can form a combo in the middle of the line as well. Forming your own combo should be easier than ever, since the only limitation still in place is for the symbols to be next to each other on a line.
The only real feature which is used here is something they call a Giant Gem. These Giant Gems are used on the middle three reels, but only if you use a special wager to activate them. There are a total of five Giant Gems, which can pay between 100x and 500x.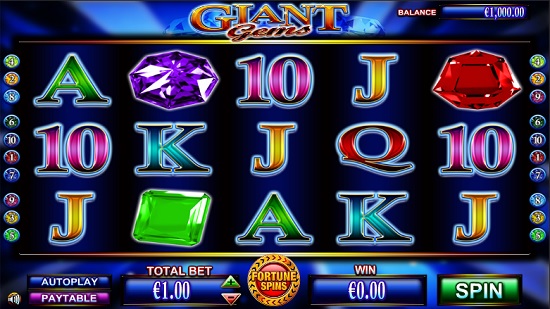 >>> Play Giant Gems Mobile Slot Now – CLICK HERE <<<
You activate these symbols from the Fortune Spins button, which lets you take the initial bet of up to $20, to $40 for the Purple Gem, $80 to add the Green Gem as well, then to $120 for the Blue Gem, $160 for the Red Gem and $200 for the Teal Gem.
As you activate new Giant Gems for the main game, besides the fact that you have to pay more, you also have fewer poker cards present on the reels. They are removed one by one, as you increase the level of the side bet, until you have only gemstone icons on the reels, both regular and giant sized.
What We Do Not Like
Both the theme choice and the way the design was approached are on my list of things I'm not a fan of. You're going to find here a dated design, with zero symbols that you're likely to enjoy looking at.
Worth Playing?
Giant Gems will offer you some unusual features, but unfortunately the graphics are a big downside for it. Might still be worth giving a chance to, if you're curious about how it works.
T&Cs Apply 18+