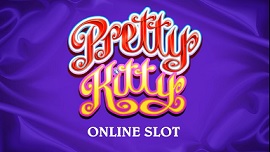 Pretty Kitty is a game that was designed with the cat lover in mind, one of the many slot machines already on the market, to sport the same exact theme. The focus on cats is not unusual, so I would've expected Microgaming to do a great job with the design, in order to stand out a bit from the many such titles already out there.
It doesn't do that unfortunately, so even though you get a couple of cool cat symbols, there are plenty that are unrelated and the game doesn't look like a lot of fun visually. The slot's 5 reels hold 243 ways to win, and it promises to pay up to $70,000.
What We Love
Given the love of cats that is so obvious if you browse the Internet for any length of time, I think that there is plenty of room on the market for a good cat themed slot machine.
As I mentioned in the intro, there are things that could've been done better in Pretty Kitty, but I still think that the idea is a solid one. You have four main cats as characters on the reels of Pretty Kitty. These cat symbols look very good, being well drawn by the designers. The unfortunate part is the presence of so many gemstone symbols alongside the themed ones.
The 243 ways to win which are employed by Pretty Kitty replace the usual paylines, and instead of having symbols form on predetermined positions, you simply need them to be on adjacent reels, going from left to right. The unfortunate part is that these games tend to pay less.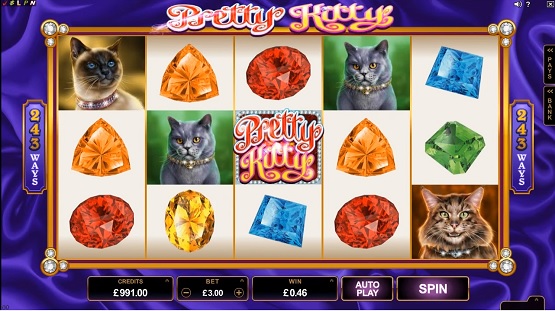 >>> Play Pretty Kitty Mobile Slot Now – CLICK HERE <<<
A wild symbol was introduced, its image being that of the Pretty Kitty logo, which transforms into a wild whenever it lands on the reel on which it is needed. The wild is more powerful in a slot with ways to win, than in one with paylines.
Certain symbols will expand in this game, and I'm talking here about the ones with cats on them. These can take over entire reels, and there is even a chance to cover all the positions in the game with the same cat symbol.
Access to free spins is obtained whenever 3+ scatter symbols with Cat Collars on them will be on the reels simultaneously. The 15 free spins which begin next will bring you some additional features, in the form of stacked symbols on the 1st reel and wilds which can now expand.
What We Do Not Like
The graphics are not great, and even though the cat symbols are cute enough, the developer could've done a much better job. Considering how much experience Microgaming has with slot development, it doesn't feel like they did their best here.
Worth Playing?
Pretty Kitty should be a decent choice if you enjoy cats, and it doesn't hurt that it can pay well, up to $70,000. There are downsides as well though, so it's not a great game.
T&Cs Apply 18+