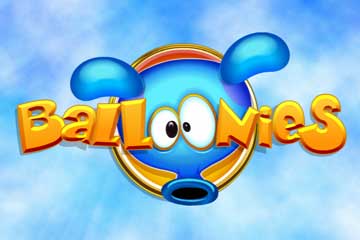 Ballonies is a slot machine which was recently announced by IGT. The game has an unusual theme, one where the symbols are all made out of balloons, the kind that will bend and which can be tied in different ways.
The objects made out of these balloons show you either poker card letters, or various wild animals, mostly the kind that would live in Africa. It's a slot which also sports a couple of very interesting features among the regular symbols, and which has 5 reels/20 lines to place bets on. The biggest payouts will go up to 1,000x normally.
What We Love
You might, or you might not be a fan of the whole kid like design, which I'm not sure how many adults will appreciate, but there is no denying the fact that the slot's graphics are well made. It's also unique, something which can't be discounted these days, with thousands of slot machines on the market. There is a lot of light in the design of Ballonies, with the light blue background showing you the sky, while the symbols are mostly made with lighter color shades.
The Floating Reels feature seems to be unique to Ballonies, at least with this name, since others that are similar are offered in slot machines. The game will take any symbols that are in winning combinations, and will make them disappear. In the empty spaces, new symbols will come in, floating up from below, like any balloon would. Hopefully, this will bring you a new winning combination.
>>> Play Ballonies Mobile Slot Now – CLICK HERE <<<
The feature that I appreciated the most in this slot is one that can bring you a multiplier for all the wins from the spin where you get that symbol. It's a Golden Star icon, it is reserved for the reels 1, 2 and 3, and each one you get adds a multiplier of 5x, 3x or 2x. You can get up to three symbols in one round, each one with its own multiplier, and in theory they could go up to 15x together.
A Hedgehog was selected to act as a wild, and the symbol is made out of balloons itself, though I'm not quite sure how they would've gotten the spikes to form out of this material. A wild simply substitutes for the regular symbols, it doesn't pay anything by itself.
The Bonus icon will trigger a feature for the player, one where you choose a balloon to pop and find out how many free spins can be won. Only the first three reels will get these symbols.
What We Do Not Like
The top payout of only 1,000x is a disappointment, but there is something that can make it better, the multiplier from the Golden Star icons. They could take it as high as 15,000x, at least in theory.
Worth Playing?
I have no doubt that you will enjoy the features of Ballonies, it's the payouts and the design style that I'm less convinced about.
T&Cs Apply 18+