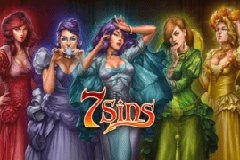 7 Sins is one of the games that have been announced by Play N Go at the same time, together with Holiday Season. Both are slot machines of a good quality, but let's see what 7 Sins has to offer right now.
The game features 7 attractive women, dressed in clothing that seems to belong a few centuries in the past, the sort of thing that aristocrats might've owned back then.
It's a game that also seems to have a fetish with the 7 number, used in every area possible, even offering 7 free spins with multipliers of up to 7x inside.
The game has up to 7 symbols in combinations, using regular and double wilds to get you there. The 5 reels have 243 ways to win, and there are top prizes which reach $70,000.
What We Love
I've found that the game has a lot of pros, but the one that hits you first is the design quality.
It leaves a very good first impression, thanks to its use of the 7 beautiful women for some of its symbols, which are accompanied by a regular 7, a double 7, some sort of treasure chest, plus the four card suits. Even the card suits were excellently designed, so they're a pleasure to look at.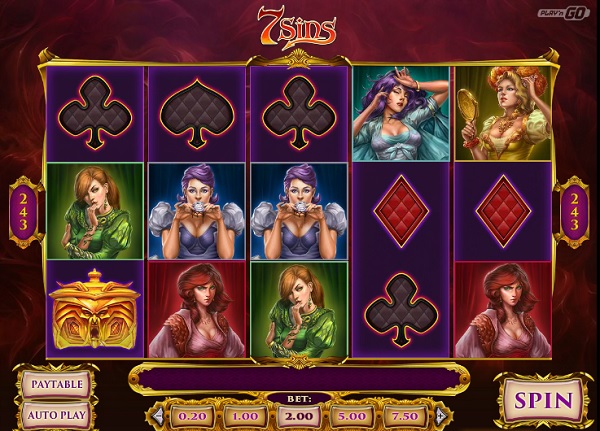 A major side of this game is the way it can get you combinations of up to 7 symbols, even though only 5 reels are available. This is done with the help of the Double 7 wilds, which count as two symbols, and which can be found on the reels 2 and 4.
To get a combo of 7 symbols, you need 3 regular symbols that match, plus two double 7 wilds. It's a game with ways to win, so you need these symbols on the right reels, nothing more.
Both the regular 7s and the Double 7s are used as substitutes, as wilds, and together they can be used to form combos directly, which is how you can get the ultimate payout, of $70,000.
The last special symbol of 7 Sins is the one that shows a treasure chest, made out of gold with some beautiful decorations on it. Land three such symbols, and the game will give you a reward that doubles the wager, and then starts up 7 free spins.
During each of the 7 spins, you will have a single Sin symbol active, expanded on reel 3 and appearing in regular size on the others. Multipliers range from 1x to 7x, increasing each spin by 1x.
What We Do Not Like
If there is one thing to complain about, it would be the value of the payouts for combinations of five symbols, which is what most games have. The seven symbols combos pay very well, but those are not exactly easy to form.
Worth Playing?
7 Sins provides you with some very interesting action, looks great and the symbols are quite nice to look at.
T&Cs Apply 18+