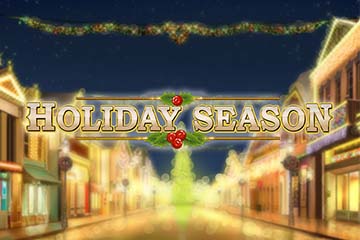 With the winter holidays coming, it's expected from developers to put out new slot machines which are based on them, and that's exactly what Play N Go does with Holiday Season.
The game has its fair share of Christmas decorations, but its mostly about New Year's Eve on the reels, and about the champagne and fun that you would have that night.
The game has a couple of good features in store, like the wild symbol, the scatter, or the win spins which guarantee you a minimum of 5 cash prizes. Only 10 lines are used, with 5 reels supporting them. The game has a jackpot of $10,000.
What We Love
I just love the way the winter holidays makes us feel, and the fact that people come together, both families and friends, even if they didn't see each other all year long.
In Holiday Season, Play N Go focuses on those celebrations that take place at the end of each year, and it does it with the fireworks that you see in the background, with bottles of champagne, but also with gifts which are presented among the symbols.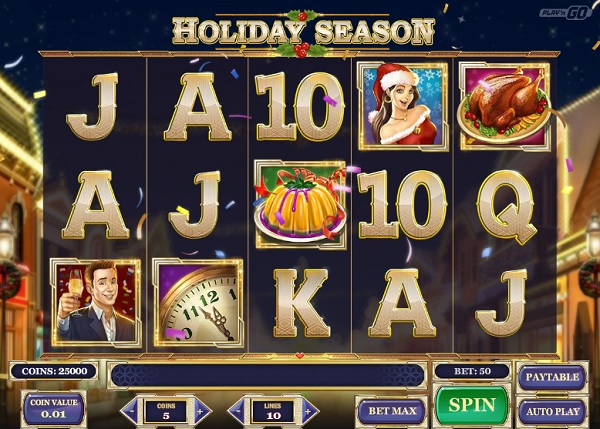 The champagne bottle and the gift box are the feature symbols, and they're followed by images of men and women, with clocks that are nearing midnight, with stuffed birds and other delicious foods. Five Royals, 10 to A, are the ones to give out the lower payouts.
With the Gift Box on the reels, the wild symbol is available to you. Any pay line that goes through that position will be able to use this symbol to replace another one, as long as that results in a new win.
The wild symbols are even more useful if they appear on multiple reels, forming combinations themselves. They pay up to 1,000x, or the $10,000 jackpot, if this happens.
The other big symbol is the one which has the power to trigger a feature for you even though it is scattered. Having Champagne Bottles in 3+ positions will get you 5 win spins.
The win spins are free spins, but with guaranteed wins for each one. To retrigger an extra 2 win spins, you need one scatter present on the reels.
What We Do Not Like
Those five poker cards are quite ugly, and you're going to see them often since they're the ones that pay the least.
Worth Playing?
Holiday Season looks good, has pretty good features, plus it's focused on New Year's Eve and on the winter holidays as a whole.
T&Cs Apply 18+