The Link is a deceptively simple slot, and it was created by Gamevy, a London based developer. I'm not very clear on what the theme is supposed to be in The Link.
There are only six symbols total, and there are three reels which can get them to form up in combinations.
If I was to pick a theme for it, I'd say it's something inspired by geometry, since the symbols are just various shapes (triangle, circle, etc).
There is a single feature, a wild, and the rest of the symbols will form combos on the 8 pay lines available, more than the typical classic game can have.
What We Love
The simplicity of the game can very well be a plus for it, just like for some it might be a downside. The game has only a couple of symbols, six total if we include the wild symbol, and it can form its combinations in all positions, as long as it's a straight line.
You can have the three matching symbols either on a horizontal line, on a diagonal, or on a vertical one. That's how it gets you 8 lines total, even though most 3 reel games have at most 5. The symbols start with the Star, which is the wild symbol, while the regular ones are the circle, triangle, square, diamond and cross.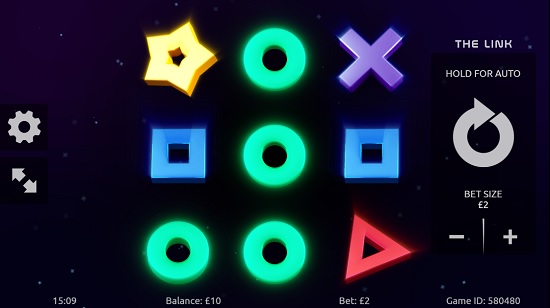 The rewards offered, in exchange for combos formed, will get better if you have multiple combinations formed at the same time.
Apparently, you could get only 2x the bet for one of the best possible combos, but you can increase it to 5,000x if you have all the lines with those symbols. It could mean up to $50,000 cash, a reward that anyone would love to get, when using only a $10 bet.
If you're after the more simple features, The Link has those as well. It's a wild symbol, which you can recognize just by looking at its image, that of the Golden Star. As the replacement symbol that can help you form a new combination, it will be used together with any of the five other symbols.
What We Do Not Like
Apparently, the RTP (Return To Player) stands at 93%, so that's how much money comes back to players, on average. The part that I don't like is that it's a bit too low, with plenty of other games doing 95% or better.
Worth Playing?
The Link can be played as a curiosity, but if you're just interested in making money, there will be plenty of slots that will give you better odds.
T&Cs Apply 18+