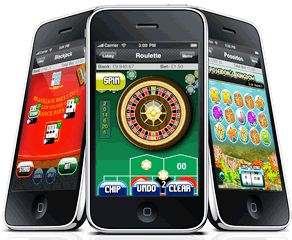 It might come as a surprise to learn that mobile casino gaming is, by no stretch of the imagination, a very recent development. In fact some of the biggest names in online casino game design, development and software have been releasing gaming platforms onto the mobile gaming environment for a number of years now.
Unlike the online casino industry, where there are just a limited number of different operating systems, the mobile gaming world is ever evolving with many different companies bringing out their own handsets and mobile devices. As such it is only the major casino game designers that have the means to ensure their games are fully accessible on these many different devices.
As with most things in life it always pays dividends for you to stick to well known and trusted companies. Maybe even more so when you are looking to play casino games, as you will, above all else, be looking to access fair playing and random games that are beyond reproach.
This is why we have chosen to present you only with the mobile casino sites and mobile gaming platforms that have been released and developed by the main players in the industry.
Below is a small overview of the history of mobile gambling in relation to two of the largest players in the business; those of course being Playtech and Microgaming.
Playtech Mobile Casino Platform
Playtech was formed in 1999 and it has been the software platform of choice for many land based gaming companies who are eager to break into the online casino playing environment.
They developed their own unique mobile casino platform six years later and in 2005 it went live. This gaming platform has quickly become a reliable and very user friendly platform that offers players a huge suite of casino games.
To ensure that everyone wishing to play mobile games on Playtech's mobile platform can do just that, as effortlessly as possible, they have made it fully compatible with most mobile phone operating systems. This is why nearly everyone can play the games they know and love from Playtech on the go wherever they are.
Should playing Playtech designed and developed casino games via the mobile gaming environment be of interest to you, we are happy to present to you the following mobile sites using this state of the art mobile gaming platform:.
Bet365 Mobile Casino, Mobile Casino Las Vegas and Winner Mobile Casino, (follow the links to take a look at one of our in-depth reviews about any of these three long established Playtech software powered mobile casino sites).
Microgaming Mobile Casino Platform
Microgaming launched their first mobile casino platform back in 2005, and as such decided to launch they own offshoot company completely dedicated to bringing out a range of mobile casino games along with the engine required to run these games on.
Their mobile gaming operation goes by the name of Spin3 and to ensure that they have no shortages of mobile casino games to offer to players, they choose to release a collection of their back catalogue of online casino games.
This was a wise move as Microgaming has a huge following of online casino players, and by making their most popular online casino games readily available to mobile casino players it was likely that these players would stick to playing their range of games above all others offered by different mobile casino sites.
This has proven to be a good business decision, as some of the most populated and popular mobile casinos are those using Microgaming's Spin3 mobile gaming platform.
We have reviewed three of the most popular Spin3 mobile casino sites, all of which are sister sites of some of the best known and most loved Microgaming online casino sites. Below is a listing of these sites, follow the link provided for a deeper insight and a full review of the respective mobile casinos.
Royal Vegas Mobile Casino – Thanks to the hands on style of the management team at Royal Vegas Casino they have made a real name for themselves, players love the personal touch, which is now also on offer at their mobile casino site.
Gaming Club Mobile Casino – Most Microgaming casino game players will have played at or at least will have heard of the Gaming club. They have been around since 1994 and are the granddaddy of all online casinos, their mobile casino is now up and running.
Jackpot City Mobile Casino – Probably best known for their huge range of progressive jackpot games and the frequency at which they are won, Jackpot City online casino are proud to announce the launch of their very own Microgaming Spin3 mobile casino site.