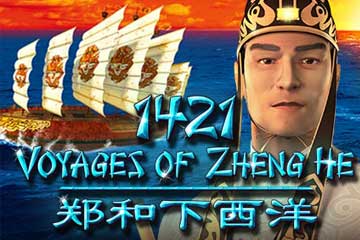 You might've guessed by reading the title, but in case the name isn't familiar for you, Zheng He is a big personality from Chinese history, a former admiral of theirs that navigated the oceans of Asia in the early 15th century.
He took with him huge fleets, which numbered hundreds of ships, with tenths of thousands of sailors aboard, and he visited pretty much all corners of Asia, and even reached East Africa in the trip that this slot machine is inspired by.
The trip from 1421 lasted until 1422 and it took him and his ships to the Maldives, Aden, Mogadishu and Brava, among many others. It was his sixth big voyage.
Symbols selected for this game start with a gold coin, with a flag, an image of Zheng He, one of his big ships, a bell placed on a beach, a jade made gift, a gold jewel, plus five of the usual poker cards.
Developer
IGT is a major contributor of slot machines to the online gambling industry, but it's just as popular when it comes to the machines designed for the land based market.
They tend to do a great job in both areas, and I'm especially a fan of their work because of the features I find in their slots. The graphics aren't always impressive and the payouts are often enough on the small side, but they still manage to make their games entertaining.
How To Play It
Since the game is destined especially at the Chinese market, the ones that would know best who Zheng He was, it offers a lucky number of lines, 88 of them available.
You can have fewer selected if you want to, and you can use a line bet which starts at $1 and can be increased from there, as needed. It can be a high roller's game, thanks to the range with which you can work in it.
The look is definitely Chinese inspired, but luckily it is adapted to the needs of a slot machine that is themed around a 15th century explorer, with appropriate symbols for the task. The interface is the standard one, so any slot player should find it easy to play.

T&Cs Apply 18+
Special Features
You can expect the game to have a wild symbol for you, which is part of most slot machines that developers are launching these days.
The wild symbol is the expected substitute, which you can use in combination with any other type of symbol, to form a new win. Wilds are just as useful if they appear multiple times on a line, and if they form their own combo, paying up to 888 coins if this happens.
The most fun features of this game seem to come from the symbol with the Dragon painted on a flag. A scatter symbol that is reserved for the three middle reels, it delivers a feature called Player Decision.
The decision you're given is between a bonus game and three types of free spins. The free spins will have 10 free spins (multipliers at 1x, 2x or 8x), 15 free spins (1x, 2x or 5x multipliers) or 20 free spins (1x, 2x or 3x multipliers).
As for the Cup feature, the bonus game, if you go with it you will have to choose one of the three shown cups, and in exchange you can win up to 102 times the triggering bet.
Maximum Payouts
The ultimate payout is obviously the one you get from the Cup feature, the equivalent of 102 times the triggering bet, which can mean 8,976 coins. The base game will pay at most 888 coins for one combo.
Summary
It's an exciting new slot machine, especially for the players that have a soft spot for titles with an adventure theme.
T&Cs Apply 18+