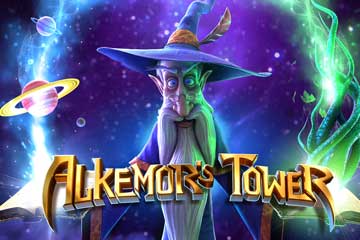 The Alkemor's Tower mobile slot is a game from Betsoft that comes with many spells and magical features. It all takes place in the title wizard's tower and features many different ways for players to win around all five of its reels. The chances for a player to get some big totals off of this game is certainly worth looking out for.
About the Game
This Android, iPhone and iPad slot game offers 30 coins on each individual spin. The player can go from two cents to one dollar on each coin and can even bet up to five times the original value on a single spin.
There are 243 ways for players to win on this game. These ways will go from left to right.
The Android and iPhone slot has numerous magical symbols but the Elemental and Spell Book symbols are the most important ones to look for. These are two types of symbols that will give players some big payouts when they show up the right way. In particular, they can create some special effects around the screen that will change the symbols around and make many of them pay out a little more.
Special Parts
Elemental spells are key features of this iPhone and Android slot to see. Spell Books on the first two reels can be combined with an Elemental symbol on the middle reel to create a spell.
The effects that come on the spell will vary based on what the player gets. The special symbols from the second and third reel onward will become wild symbols while the first becomes a new random symbol. Meanwhile, the other symbols on the screen can either be fully replaced, shuffled around the screen or otherwise replaced with some new wild symbols. Either way, the game's special features will give players more ways to win big and get some good payouts.
The spell books can also be combined with a star or vine book to create a secondary screen game. The Nature Floor and Celestial Floor games offer ten or more free spins and some special-paying symbols all around. meanwhile, the vine or black hole symbol, depending on the game that is revealed, can appear at random to possibly give players some extra payouts as surrounding symbols around those initial ones will be destroyed and replaced with some brand new ones.
How it Compares
The Alkemor's Tower game is rather unique when everything about it is considered. The game's special symbols all around it make for something that is a little different from what people often expect to find out of a mobile slot.
Where to Play
The Vegas Paradise Casino and Jackpot Paradise Casino are both places that have the Alkemor's Tower mobile slot. These two places have many games from all sorts of popular companies and include some entertaining ways for all players to win something huge. The Vegas Paradise Casino has a special 100% match bonus on first deposits plus up to 10 free spins on that deposit. The Jackpot Paradise Casino has a $200 bonus for a first deposit and includes an additional 10 free spins to use all around the place. Terms and conditions apply to bonuses, 18+.