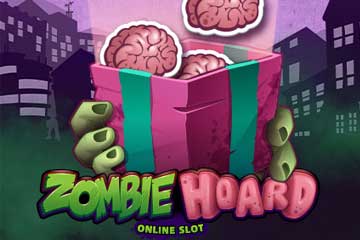 It is a tale we have all heard before. An abandoned city, full of shambling horrors trying to find their latest feast of human flesh. A thick mist that covers the majority of the area, preventing you from seeing far. By all means, it should be the perfect setup for a horror theme. And yet, Microgaming twists your expectations, and leads them elsewhere.
One look at Zombie Hoard will show oddly cute and very supportive undead creatures. Sure, they are still out to eat your brain and turn you into one of them. But have you ever met any zombie that was polite enough to clap for your wins before? This release is breaking new grounds in zombie-human relationships!
Where it is not making any progress are the special features. You can find super stacked Wilds and free spins – rather standard fare. We do like the option to activate free spins using two different methods.
Developer
Microgaming has been in the gambling industry for a while now. The company's origins start in the distant year of 1994, as an online casino software provider. Seeing the writing on the wall, the company fully embraced mobile, and launched casino software for mobile devices in 2004. The company is well known for their slots, but have also made blackjack, video poker and roulette games.
This particular title was created by Slingshot Studios, a software provider with an exclusive partnership with Microgaming. A relatively young company founded in 2016, Slingshot's releases are only available on Microgaming's platform.
How to Play it
The slot is played on a 5×3 board with 9 fixed paylines that pay left to right only. That means players cannot choose to turn certain paylines on and off to lower their minimum bet past the limits. Gamblers can set their total bet by going into the menu. Here, you can set a wager between $0.09 up to $45 per spin.
As most people access the internet through phones and tablets, a mobile-first design makes sense. However, there is such a thing as having a user interface that is too minimalist. We believe Zombie Hoard falls into this category – as nearly everything is hidden in a menu somewhere.
The Autoplay function lets players set the number of auto spins to be played. Gamblers can also set the total bet of each spin, as well as the win and loss limit. Not the most expansive list of options, but all the basics are covered.
We are a bit torn of the graphics. Some things are done spectacularly, while others could have used a bit more work. The rolling fog and the background image both look great. We like all the symbol designs, and hands clapping for each win is goofy and hilarious. But while the game did a lot of good things, it also has a few downsides.
The icon selection itself is somewhat boring. Playing card royals have been done to death by now, and lack any interesting animations. The zombies make up for this slightly with their outfits, but they also share the issue of very basic movement.
T&Cs Apply 18+ New Players Only
Special Features
Wilds can appear super stacked on the third and fourth reel during normal gameplay. However, when free spins are active, Wilds may appear super stacked on all five reels. After the extra turns expire, Wilds return to only appearing super stacked on two positions.
There are two ways players can win free spins. You can do it the old-fashioned way by collecting three Scatters. Or you can collect thirty tokens to win the extra turns. These tokens are miniature brains, and can appear next to an existing icon. They are added to a counter above the reels – once it reaches 30, free spins are played. During the special feature, all wins are doubled.
Maximum Payouts
This medium volatility slot has a maximum win of 2388x your total stake, only available during free spins. The RTP for Zombie Hoard is 95.29%, which is below the current industry average of 96%.
Summary
We had fun with this game, but we cannot overlook some of its flaws. Visually, it is quite appealing, but we do wish there were more interesting animations to capture gambler attention. The gameplay is quite basic, and does not have interesting bonuses. The top prize is great for its volatility, but the below average RTP makes us wary. For those of you who want something simple, this is a good release. Worth sinking a few hours into, if nothing else!