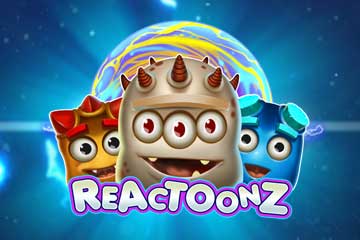 If you've ever given Play 'N Go's Energoonz slot a run for its money, then you'll certainly be familiar with what this sequel has to offer.
If not, then the online casino world is set to get a whole lot more interesting for you, with the launch of this sequel, and fellow "reactor slot", Reactoonz.
Developed on a much larger scale than its predecessor, this game offers a much larger array of features than the original, and with far funkier and modern graphics.
Developers
Play 'N Go have a good track record with original and inventive slots. They don't come much more original than reactor slots, which may baffle anyone who hasn't dabbled in them before. However, if you are familiar with Candy Crush Saga, and other similar types of games, the gameplay in this slot will instantly be recognisable. Group clusters of symbols to win – it's hardly complex stuff.
How to play
Reactoonz doesn't feature any paylines, and since it is a reactor slot, that comes as no big surprise. There is still plenty of life with the wagering options, though, and players can readily select bets which stem from $0.20 up to $100 a pop with this 7-reel slot.
T&Cs Apply 18+
Features
Winning combinations: Like all reactor slots, players aren't going to bag winning combos on paylines. Instead, they are required to bag 5 or more matching symbols in clusters. Provided they touch either horizontally and/or vertically, you're good for the win. Following any win, all winning symbols will be removed from the reels and replaced by new ones, with the slot's collapsing reels feature.
Quantum Leap: Following any win, the Quantum Leap meter will charge up. After winning 25 times (and fully charging the meter) a random Quantum Feature is added to the gameplay. Up to 4 Quantum Features can be queued, and upon charging the meter a fifth time, a Gargantoon feature is activated.
Gargantoon feature: When this feature is activated, a huge monster (3×3 in size) occupies some of the reels. This is a wild symbol, and it can replace all others in the game. Initially, the symbols appear small, but it divides and grows (rather like bacteria, or a virus) to occupy nine spots on the reels.
Randomly triggered features: On occasion, a non-winning spin may result in the chance to bag a win. The Instability feature could see the Gargantoon monster drop between 4 and 8 wilds onto the screen to boost your chances of a win.
Quantum Features: As mentioned, there are four Quantum Features, which can be triggered by charging the Quantum Leap meter by winning. These include Implosions (yellow orbs to between 3 and 6 symbols into wilds, and destroys any adjacent symbols), Demolitions (destroys all one-eyed monsters and matching icons), Incisions (cuts a wild symbol into the centre, and adds random symbols on two diagonal paths across the reels), and Alterations, which chooses a one-eyed monster at random and turns all matching symbols into other icons.
Giantoonz feature: Bagging 4 identical symbols next to each other (in a square) will turn those symbols into Giantoonz (2×2 symbols) which are worth double the standard rate of pay.
Fluctuation feature: A random one-eyed symbol is chosen as a fluctuating symbol at the start of each spin. If that symbol appears in a winning combo, they will disappear leaving wilds in their wake.
Maximum pay-outs
Players who can land 5 of the purple, two-eyed monsters on the screen can win at least their total bet back. However, if you were to flood the reels with 15 or more of the same monster icons, you could win as much as 750x your total bet, which happens to be the slot's non-progressive jackpot.
Summary
Reactoonz contains a wealth of features and these are all major advancements on those which appeared in Energoonz. This monster/bacterium themed slot is a major step up, and players familiar with the first game or who fancy trying out this, the most recent of reactor slots, will be overly impressed with what they get here.
T&Cs Apply 18+