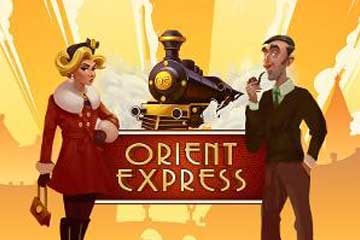 It seems baffling that such a legendary train journey as the Orient Express has never featured as the theme in a major mobile slot before. Well, Scandinavian online casino software providers, Yggdrasil are out to change that.
What you have in this newly released mobile casino game is one of the most original arrays of special features around, and features which really encapsulates the theme the slot is trying to portray just like you might hope for.
Developers
Yggdrasil have a great track record with developing one-of-a-kind mobile slots. You only have to look at their history of releases to see that many of their games contain themes which few other developers have touched if they have at all.
One might be able to express surprise that the Orient Express has never been properly developed as a theme for a slot before, but nobody can be surprised to see that Yggdrasil have done a stellar job with it. That is now customary for these rapid rising casino software developers.
How to play
Admittedly, the wagering menu in this game is perhaps not as mobile-friendly as we might like (it involves a lot of prodding, having and delicate stabbing of fingers to get your bets set up) but that's a minor detail, and only really an issue if you're playing on a tiny phone screen.
Coin values flex from $0.01 up to $5, whilst all 20 lines on this mobile slot's 5 reels are firmly fixed in place. Expect bets to cost at least $0.20 a go then, whilst bets are capped at $100 a game.
T&Cs Apply 18+
Features
Game modes: First up, it is worth pointing out that this mobile slot machine is played over 4 games modes, each one based on a real-to-life stop on the train journey. They include Paris, Venice, Belgrade and Istanbul. By reaching the free spin bonus in each mode, you automatically unlock the next base game mode. After reaching Istanbul, you are free to pick your own game mode.
Scatters and free spins: To trigger the free spins in each game mode, you will need to land 3, 4 or 5 globe symbols to deliver 7, 15 or 30 free spins, respectively.
Wild symbols: These vary from game mode to mode. To best describe them (and mode's respective free spin bonuses) it is best to look at each of the four game modes individually.
Paris mode: In Paris mode, players can prosper from walking wilds. These can make their way across the reels at random, and offer free re-spins. The free spin bonus in this feature sees walking wilds appear more frequently.
Venice mode: Venice mode features a Multiplier Clock, and this "can be" triggered after a win at random. It starts to dish out random multipliers worth between 2x and 5x your total bet. In the free spin version of this mode, all wins are bet with a multiplier from the clock.
Belgrade mode: In Belgrade mode, a train can appear on the screen at random and deliver wild reels. Between 1 and 3 reels can become wild. During the Belgrade bonus, 1-3 wild reels are present on each free spin.
Istanbul mode: The final mode offers random postcards which can blow onto the reels. They can turn random symbols into wilds. Between 2 and 12 can appear at random in the base game, whilst the free spin bonus offers between 2 and 12 guaranteed on each spin.
Maximum pay-outs
No matter which game mode you are playing in, the lady is the best-paying icon in this mobile slot. She can dish out wins worth 1,000 coins if you land her 5 times anywhere on the reels. Of course, she can be replaced by wilds and can have her winnings multiplied, so some game modes are more prosperous than others for this.
Summary
If originality was the only factor in deciding the number one mobile slot of the year, Yggdrasil's Orient Express would be right up there with the best of them, and would probably win. The unique gameplay available in this mobile slot, as well as its elegant and well-thought-out theme, make it a real winner.
T&Cs Apply 18+