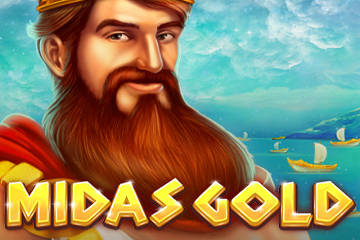 There are no prizes awarded for guessing the theme of this new mobile slot. Developed by Red Tiger Gaming, Midas Gold is, of course, based on the Greek myth of a king who could turn anything he wished into gold just by touching it. That theme is clearly represented on the reels of this game through its clever and creative imagery.
For all its nifty imagery, though, Midas Gold is quite short on special features, and that could pose a problem for players who are used to a surplus of features in their favourite games.
Developers
Red Tiger Gaming have really come on in the last year. Twelve months ago, they were a relatively unknown small fry in an ocean of casino software developers.
In such a short space of time, they have established themselves as a mid-rank player in the ladder of casino software providers, and they are certainly on the rise. A game such as Midas Gold isn't truly reflective of what this developer has been able to achieve over the last year, though.
How to play
Played with the 243 ways to win payline structure which players find so appealing, Midas Gold is a 5-reel slot offering plenty of opportunities for players to pocket a win.
The jackpot is rather pathetic in this game, but wagers aren't going to cost you a packet, either. In fact, players are going to find their wagers stretch upwards from $0.20 to $500 a spin on this mobile slot machine game.
T&Cs Apply 18+
Features
Midas Touch bonus: Players are going to want to keep their eyes peeled for the "Midas Touch" bonus in this game. If King Midas pops up, he may decide to touch one of the symbols on the reels, turning it into gold. When this happens, the symbol will be held in place and a free re-spin will be issued to players.
If any further symbols land (which are the same as the one which is frozen as gold), re-spins will keep on appearing. Midas can also turn up and offer additional golden symbols, usually ones which are worth in value more than the original. Funnily enough, this is the only special feature to appear in this game.
Maximum pay-outs
As mentioned, the prizes tend to be rather petite in this slot machine game. In fact, the most you can hope to win is worth around 160x your total bet.
The best paying icon in the game is the Queen (or lady) and she can offer this win when she appears 5 times across the reels, thanks to the 243 ways to win feature.
Summary
Red Tiger Gaming have really made a name for themselves of late, and that is largely down to the unique special features which appear in their games.
There's no denying that Midas Gold certainly has an original and creative feature in the Midas Touch bonus, but players are going to be bitterly disappointed that it is the only feature in the game. As we've said, this isn't really representative of what this developer can really do with their games.
T&Cs Apply 18+