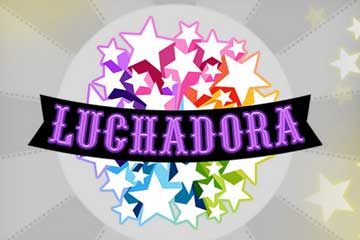 Luchadora's theme is based on Mexican Wrestling, a sport that obviously gets a lot of attention in Mexico, but which has its fair share of fans in the United States as well.
The game, which is offered by Thunderkick, has four heroes in its main roles, wrestlers that appear in major symbols and which get names like El Pantera, El Rayo, El Toro or El Serpiente. As for the rest of the symbols, you will find that they have images of Ring Bells, Mystery symbols and four types of hot peppers (red, orange, yellow and green).
The game looks good, but it's not going to turn heads. If anything, I'd say that the quality of the background image is better than that of the symbols which appear on the reels.
Developer
This game was created by Thunderkick, a young company that is not afraid of bringing something unique to the market. They've done it plenty of times before, despite their young age and the fact that they have only a couple of years since they were founded. Other unusual games of theirs are titles like Sunny Scoops, Turning Totems or The Rift, but the list doesn't stop there.
How To Play It
You're getting the standard Thunderkick betting system, which gives you fourteen different bet values to pick from. The smallest one is worth $0.10, the biggest one is at $100. Whatever the bet chosen, you will be covering 30 pay lines with it. The game doesn't look at the line bet, only at the total bet, when it decides your payouts.
The game looks a bit unusual because of the thin and tall reels, but you still get the same 5 reels x 4 symbols that plenty of other slot machines are using these days, so it's normal in that regard. Many of its symbols land stacked, and so you don't get combinations as often, but when you do the payouts should be pretty good.

T&Cs Apply 18+
Special Features
One of the features that this game employs is the one you trigger through the Lucha Bonus icon, which shows a champion's belt. These appear to be scatters, which you just need to land in some random position, in order to take advantage of their ability. 3, 4 or 5 bonus icons will get you a feature with 7, 11 or 15 free spins.
If a wrestler icon is transformed into a wild at this point, it will remain that way until the free spins are over. Once you've gotten all wrestlers turned into wilds, you will find that the Underdog symbol will be replaced with a symbol showing another wrestler, called La Luchadora.
Lucha Smackdown is a symbol that appears both during regular and free spins, and which gives you at random either free spins or cash prizes for the former, or one of the two or a wrestler transformation for the latter.
The game continues to follow the wrestler theme with the Ring Corners, a feature which transforms wrestlers that land in the four corners of the game area, turning them into wilds.
Maximum Payouts
La Luchadora, along with a couple of other wrestler wild symbols, will be able to form a combination that pays up to $2,500.
Summary
Luchadora is an interesting game, the way all slots from Thunderkick tend to be. If you're a fan of Mexican wrestling you definitely should play it, it's a good game.
T&Cs Apply 18+