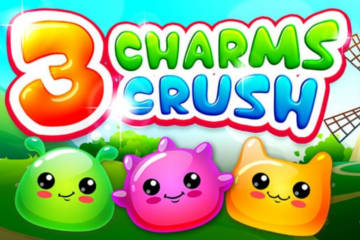 3 Charms Crush is the latest iSoftBet slot to debut. The developers have really gone for something out of the ordinary with this release.
The game features a bright and colourful setup and design, with a 5×5 grid taking centre stage on the screen. As you may have guessed, this is more of a classic slot than an actual video slot, although no classic mobile slot ever offered you as many multipliers as you can grab in this game.
Developers
Players will note that the developers are stepping up the graphical quality of their newest games. Just like in this release, modern iSoftBet games contain cracking graphics.
However, while the software providers are changing just how many features appear in their games (with their newer mobile slots favouring over-the-top features), there aren't many to be had in this game, which as we've said is reminiscent of a classic slot.
How to play
The gameplay in 3 Charms Crush focuses on a 5×5 grid. There are 5 reels, and each reel contains 5 rows of symbols. Each row constitutes a payline, so players haven't got much to work with, in that department.
On the upside, the mobile slot offers cheap as chips bets, which stem from a floor of $0.05 up to a ceiling of $5 per game. This, naturally, makes the mobile slot machine affordable for all.
T&Cs Apply 18+
Features
Lack of symbols: How can a lack of symbols qualify as a feature? Well, because the lack of symbols makes the game exceptionally easier to beat. There are just green, orange and pink symbols appearing on the reels of this game.
Multipliers: The only special feature to appear in the mobile slot is the multiplier feature. Every payline offers a multiplier, as mentioned. If a player lands any winning combination on a line, they will naturally pick up the multiplier from that payline. The first, second, third, fourth and fifth lines in the game offer 1x, 2x, 3x, 4x and 5x multipliers, for instance.
Maximum payouts
The top prize in this classic mobile slot is reserved for players who land 5 pink symbols on the fifth reel. Ordinarily, we would expect the 25-coin paying symbols to be multiplied by 5x, offering up a 125-coin win.
However, that isn't the case. If you 5 pink symbols on the fifth payline, you will mysteriously pick up a non-progressive jackpot worth 500x your stake, known as a Super Win. The coin wins themselves tend to be petite (apart from the jackpot) but frequently occur, as is evident from the 97.23% RTP rate that the slot has.
Summary
This mobile slot machine is perfectly tailored for players who like fast-paced gameplay. It offers wins incredibly frequently, and although they aren't worth a fortune, most players will quickly see their cash pile build up. In any case, the 3 Charms Crush slot has more than enough quality to entertain and is a daring but refreshing release from iSoftBet.
T&Cs Apply 18+