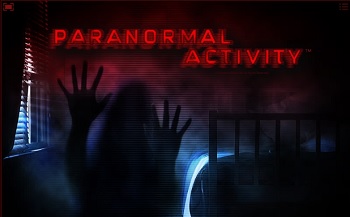 The series of movies called Paranormal Activity began in 2007, and it went on to include a total of six movies so far.
The series has stopped, as far as I know, but while it lasted it was one of the more popular and profitable series that Paramount Pictures had, at least if you look at the effect it had with a very low budget.
The focus of the movies was on various members of a family, who were haunted by a demon. The films used cameras that the characters themselves activated, or security cameras, to give the impression that they were real life events.
The game's symbols give you demons and ghosts, video cameras, a candelabra, mysterious triangle shaped signs, an Ouija board, hands with blood on them and so on. The lower paying icons have the Royals from 10 to Ace.
Developer
iSoftBet delivers a lot of games, and they do it for all kinds of platforms, from the regular ones to Facebook and others of the kind. They have branded games in areas which don't seem as expensive as others, so you're going to find older movies and TV series on their list.
Paranormal Activity is a newer one, but they also have titles from the 80s, like Rambo or Platoon. Either way, they can do a very good job if they put their minds to it. This is a developer with the headquarters in London.
How To Play It
The game has 30 fixed lines, which allow for bets of up to $0.20 to be made on each one. You read that right, it's a game with a maximum bet of just $6, while the minimum one is worth $0.30. It doesn't cost you a lot to play, but it doesn't pay much either, a natural result.
The betting options are not properly marked, and while there are huge areas for the displays, the only area where you can actually modify something has only a small arrow pointing upwards to let you know that there is a pop-up menu there. Other than that, it's an easy to use game.

T&Cs Apply 18+
Special Features
This list should start with the scatter, the symbol which shows off a hand with blood on it. The reason is that it pays as well as you can expect from this game in the basic spins, offering up to 750 coins in exchange for up to five such symbols scattered around. There are no features triggered by it, only the prize.
Second, I would probably mention the wild, a symbol that you will be familiar with since it works like in any other slot. You use it to substitute for another symbol, as long as it's not one of the feature symbols.
Thirdly, there is a scatter symbol which is used to trigger the Bonus feature. You need it on reels 1, 3 and 5, and when it is visible on all three you get either a cash prize, or one of the three types of free spins. The Bonus Wheel decides what you will get.
One possible outcome is the round of Paranormal Spins, with 5 guaranteed winning spins inside, and with multipliers which increase each time, up to 5x. The Possessed Spins give you 10 rounds, with stacked wilds added to the reels. From the Demon Spins, you get 15 rounds, with additional wilds used.
Maximum Payouts
Normally, the best payout you can hope for is at 750 coins, from the scatter in the base game. This would mean up to $150 cash. A 5x multiplier from the Paranormal Spins can be used to improve regular prizes further.
Summary
Paranormal Activity delivers great graphics for the most part, along with cool features and a horror inspired theme that is perfect at certain times during the year.
T&Cs Apply 18+