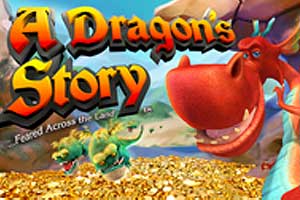 A Dragon's Story follows what happens in a dragon's lair, where Ruff, a red dragon lives. As many stories will tell you, dragons are quite fond of treasures, which they accumulate in great piles, and then they tend to hibernate or sleep on them.
You're probably familiar with the story of the Hobbit and Smaug, so this slot machine should feel familiar to you. The game has a similar story, though in this case the name of the dragon is Ruff, and the one trying to steal the treasures is called Sir William. The slot holds on 5 reels a total of 25 lines, and it is capable of rewarding players with prizes of $4,000.
What We Love
I rather enjoyed the graphics which were included in A Dragon's Story. The quality is certainly there, and you will get a constant companion in the form of the big red dragon, which sits next to the reels, protecting the treasures underneath. You might see Sir William from time to time, coming in to steal some of the gold coins, and at that point he will be chased away with a fireball, and he will run away with his pants on fire, leaving money behind. The quality of the symbols is one reason to pay attention to the graphics, but a couple of poker cards were included as well, so it's not all good.
SuperBet options are in place, allowing you to choose 25, 35 or 50 coins to use on the 25 lines. The first one gets you only the 3rd reel enhanced, while the second option enhances the 2nd and the 4th as well, and the third option does it for the rest of the reels, so you have all five enhanced. Enhanced reels have a chance of getting you Little Dragons, which fly in and burn wilds into them.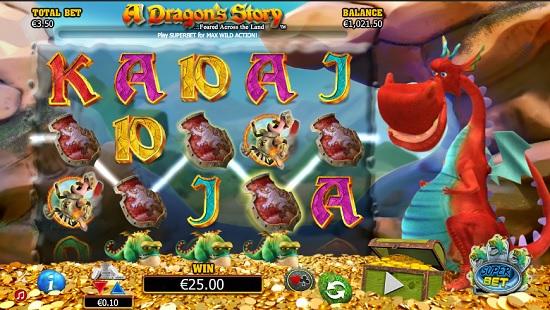 >>> Play A Dragon's Story Mobile Slot Now – CLICK HERE <<<
The Dragon is going to be the replacement symbol, which you use whenever it appears in the location where it is needed. If a wild lands next to matching symbols on a payline, it forms a combo with them. If multiple wilds land together, they form combinations of their own and pay up to 2,000 coins back.
The scatter symbol, another popular feature in modern slot machines, is represented by a Jewel. Multiple such symbols will trigger prizes, up to 100x the bet, and at the same time they can bring you access to 10 free spins with doubled prizes.
What We Do Not Like
The game's 2,000x payout is the downside that I see here, appearing to be quite low for a game with 25 lines. It can be doubled in the free spins though.
Worth Playing?
I enjoyed the game, so I'd recommend it to you, but only as long as you keep in mind that prizes are not as high as they could've been.
T&Cs Apply 18+