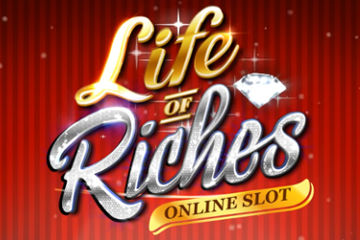 Though the type of life that billionaires have has always been something that people are interested in, I don't remember seeing any other game, except this one, to be inspired by the rich people from Asia.
In the end, Life of Riches shows us the same thing as any other luxury themed title, using beautiful Asian women as the differentiator.
Otherwise, you're seeing the same private jets, big yachts, red sports cars and luggage that you might see in a typical slot. In addition to those, you have the Asian women sitting in or near golf courses, cars, casinos, private jets or yachts.
Developer
As any serious slot player can tell you, if you play at a Microgaming casino, you can expect to have a lot of choices. Creators of 500+ slots, these days they focus on instant play titles, with much better graphics than you'd get from their older slots.
They have one or two new games launched each month, and Life of Riches is the one they decided to start 2017 with.
How To Play It
In the settings page, which you access through the menu button, you get to pick the coin size, as well as the number of coins per line. It's up to $0.25 for the former, and 10 coins for the latter. Since the option to change the number of lines is missing, you can spend $0.30 to $75 each time you spin the reels.
It's not exactly the standard interface for a Microgaming slot machine, so it seems they changed some things there. It's a mobile friendly design, with just a couple of buttons and the usual displays at the bottom, or it's a regular sized design, depending on the version of the game that you get.

T&Cs Apply 18+
Special Features
The feature list starts with the regular stacked symbol, which will pay up to 1,000x when forming a combination. You will see it appear stacked during all spins, both paid and free.
Next, we have a regular symbol during paid spins, and a stacked one during free spins. It's the wild that I'm talking about in this case, a symbol that is more than capable of creating its own combos, and paying up to 4,000x when this happens.
Should a wild symbol contribute to a new combo formation, as a replacement for one of the symbols that is missing, you get a multiplier from it, which will be at 2x.
As for the scatter symbol, another one that you can expect to see in any modern slot, you may use it from any position it happens to appear in.
The game only needs it to be in at least two positions so that it can give you a reward, or in a minimum of three in order to trigger 10 free spins with a 2x multiplier. As an added bonus, the wild symbol is stacked during free games.
Maximum Payouts
The ultimate payout in the base game will get to $10,000, a 4,000x reward. During free spins, this can go up to $20,000.
Summary
In Life of Riches, the players will find a pretty typical game for this day and age, the kind that most developers release. It's not overly original, but it should be a favorite for quite a few players nonetheless.
T&Cs Apply 18+