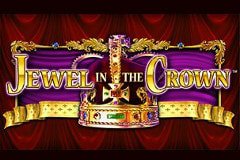 Jewel in the Crown's theme isn't that difficult to figure out, unfortunately.
It's just a simple gemstone and crown themed slot machine, relying on fairly boring symbols to make its point, and giving you few reasons from that point of view to try it out.
The game shows a red curtain behind the reels, a purple runner behind the symbols, and golden decorations all around the reels. The first and the last reels have two additional symbols at the top, sort of like crowns, with blue and red backgrounds inside.
The symbols from this game come with five Royals, with three regular gemstones set in jewelry, with a blue wild logo and with a Royal crown. None of them feel special, and the Crown would be the only one that would look halfway decent in a well made slot machine.
Developer
Barcrest belongs to a certain special club of casino machine developers, the ones that have been around since before the Internet became the hot new place for gaming establishments to be in.
They still operate today, but now they're just a subsidiary for Scientific Games. For some reason, all these developers can't manage to put out a superb design, but at least they can do a perfectly decent set of features for their games.
How To Play It
The game is not exactly easy to understand, but suffice it to say that there are two ways to get it started. One of them is through bets of $0.01 to $50 per line, meaning of $0.10 to $500 per spin, which will be used to activate 10+3 lines. Another one is through Big Bets, which are of fixed value at $20, $30 or $50 for a pack of 5 spins.
I recommend you go with the latter option, since the Big Bet Spins have the highest average RTP of the game, at 98%, while regular spins are at 94-96%.
The slot features a type of design that basically screams that they've given up on the 21st century, featuring poker cards and gemstones, and not even those look pretty. If you choose your games based on design as well, I doubt you will find much reason to give this one a shot.

T&Cs Apply 18+
Special Features
One feature that you can rely on is the wild symbol, a simple logo placed in a golden border with a blue background. It is simply going to be a replacement for most symbols, and you can also use it to land some prizes in the game, going up to 10x or 20x the bet.
The Crown may be used as the scatter in this case, the symbol which you need visible and scattered on the reels 2, 3 and 4, to get the free spins going. The game will look at the symbols which are displayed in the crown like sections on the reels 1 and 5, and will turn the first one into a wild, and the second one into a mega stacked symbol.
Should you decide to use Big Bet Spins, they will have three different values, and will give you different additional features. Crowning Glory is offered in the 5 Big Bet Spins triggered by a $20 wager.
With $30, you get the same number of spins, but with both Crowning Glory and Jewel Stacks as features for them. $50 will be enough to upgrade the features to Super Crowning Glory, along with the Jewel Stacks.
Maximum Payouts
The maximum payouts seem to be quite low, going up to 10x for bets that are over $2, so that means that you can get paid up to $5,000. The highest RTP is available during Big Bet Spins, where it is at 98%.
Summary
Jewel in the Crown is a game to be avoided in its basic form, at least if you plan to spend $2 or more per spin. Its Big Bet Spins might be worth a shot though, if you can stand those graphics.
T&Cs Apply 18+