Theme of the Game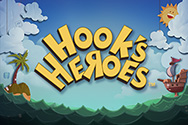 The Hook's Heroes video slot is a new game that has a fun design that features a series of pirates having plenty of fun. The game has a number of animations and other features that are entertaining and offer some charming looks for all to play with. The game especially has a design with the title pirate on it and his many other fellow sailors.
This game has a fun look but what makes this mobile slot especially popular is that it has various adventures for the pirates to go on. These include options that the player can choose from when reaching the free spin round on this game. This is a fun feature that will be interesting for all players to go after when finding ways to get the best possible payouts.
How to Play
This game requires players to make a bet that will be used on twenty lines. These lines are arranged around five reels. The bets can vary in size and can even be worth a few dollars per spin if desired.
The game has a special design that uses many traditional symbols like wild and scatter symbols. What makes this design so different is that players on this Android slot can get access to different bonus games depending on what happens while playing. A player can possibly get access to multiple games depending on the number of scatter symbols that appear on the game.
The game has wild symbols that will appear all around the entire screen. The player can possibly get five of these on one spin. There are also some times when a player can get two or more of them on the same reel. It is easier for a player to get more of these wild symbols around the end parts of the slot.
Try Completely FREE:
T&Cs Apply 18+
Special Parts
This iPhone slot has three different bonus games that players can choose from after getting three or more scatter symbols. The first is the Pirate bonus, a game that features fifteen spins and will pay out prizes for like symbols from left to right regardless of the lines. That means that a player can get more wins without being limited to getting certain symbols on specific lines.
The Mermaid bonus is the next option to choose from. This game offers ten free spins and will use a multiplier. The prizes on these free spins are doubled but they will be doubled once more if a wild symbol is involved on any of those wins on this game.
The Fairy game is the third choice. This uses seven spins and has a fairy that will appear around the screen to create new wild symbols all around the place. This makes it to where there are more wild symbols around the screen here than what there usually used during the regular play feature.
Maximum Payout
This iPad slot offers a payout that is limited to up to 194,800 coins on a spin. Players are more likely to reach this during one of the different bonus games on the slot. The bonuses will especially give a player an easier time with finding more wild symbols or at least getting access to some of the best multipliers that the game has to use.
Summary
The freedom to choose one's own bonus on the Hook's Heroes video slot is a big part of what makes this such a popular game. People who are looking for ways to win big should see how this game works as a player can possibly win more money off of different games. A player will have the right to choose one's own game while even having the chance to choose multiple games depending on what is available.
Where to Play
The Vegas Paradise and Jackpot Paradise are two great mobile casinos for players to check out the Hook's Heroes video slot at. These are two video casinos that are available for Android and iOS players alike as they contain many different video slots and other classic casino games. These two places have some strong welcome bonuses too including a $200 bonus on a first deposit and free spin offers. Terms and conditions apply to bonuses, 18+.