Theme of the Game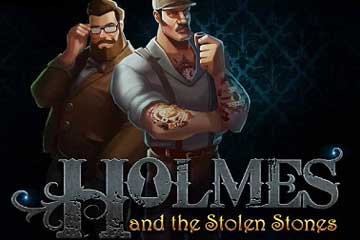 The Holmes and the Stolen Stones video slot from Yggdrasil Gaming is a mobile slot that is based off of the Sherlock Holmes character. The game works in that the title sleuth has to find the pieces of various colored diamonds to get them back together. Players who can get these stones together again by collecting all five shards of a particular color will be rewarded with some big payouts. These payouts can be rather varied based on how many people get these jackpots but they are also unlimited in terms of how big they can really be.
How to Play
The game has five reels and twenty lines for players to go after. The players can bet from one cent to two dollars on each line within the game. This gives the player a great variety of options to choose from when looking for ways to go after the best possible jackpots.
The player can get a number of special symbols all around the screen. There are a few free spin featured around the game. A player can get ten free spins if at least three of these are collected on the same line.
There is an additional bonus symbol on the iPad slot that will bring players to a unique bonus game in the event that at least three of those symbols are collected. The player will have to choose from many crates on a screen to get some prizes or diamond pieces. The game will keep on going until a crate that features a smoke bomb is unveiled.
Try Completely FREE:
T&Cs Apply 18+
Special Features
The most important special feature for this iPhone slot outside of the free spins and bonus game on this Android slot comes from the diamond pieces that are found around the screen. A player can get diamond pieces throughout the game although they are easier to find in the free spin and bonus game segments. The player needs to collect five pieces of the same color to win a big prize. There are five colors to look for in this game.
The five pieces, when combined, will give the player a big payout. This can be worth thousands of dollars although the payout will vary based on the particular color that one goes after.
A player can also get a 3x multiplier on a free spin round that will be activated after getting enough pieces of a single diamond. This series of free rounds will have a series of spins for players to try out to possibly get some big payouts.
Maximum Payout
The highest progressive jackpot on the game can be worth more than $50,000. The lowest value for the jackpot is closer to $50 on average. All of these jackpots will change as they are linked online and can reset after a player wins on one of them. The jackpots can also either increase in value quickly or stay still for a while. This will vary based on how many people are playing on the slot and how much money is going into it off of the bets placed there.
The highest individual line payout on this game is 4,000 times the bet on a line. This works for when a player gets five Sherlock Holmes symbols on a single line. The player has to keep on playing for a while in order to actually get all of these symbols.
Summary
The Holmes and the Stolen Stones mobile slot is a game for the Android, iPhone and iPad devices that can be fun for all casino players as it provides them with a great way to go after some big payouts. The game requires plenty of patience and persistence but a player who goes far on it will end up winning some big prizes thanks to the many progressive jackpots that are available for those who get enough diamond pieces.
Where to Play
The Vegas Paradise and Jackpot Paradise mobile casinos are two places that offer the Holmes and the Stolen Stones video slot. These places have an extended variety of other video slots that can be played on most mobile devices as well. These spots also have a few added table games. These two casinos currently have welcome match bonuses of up to $200 each for new players as well as ten free spins to all new accounts after their first deposits are made. Terms and conditions apply to bonuses, 18+.