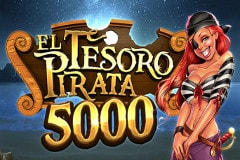 Coming from MGA, El Tesoro Pirata 5000 has both an unusual name and a theme that you don't tend to associate with a 3 reel setup, which is what this game has.
It's a classic game with a lot of modern features and graphics inside, which can only help it become popular among players.
The pirate and treasure themes are both present, but so are a number of classic icons, with fruits, bells and gemstones, things that you've seen a hundred times before in such slots.
The symbols give you the feature icons first, among which you will discover the Treasure Map as the wild, the Rum Bottle as the trigger for free spins, plus a Pirate Coin for the bonus game. The regular symbols give you the blue, red and green gemstones, followed by a golden bell and four types of fruits (lemons, plums, strawberries and persimmons).
Developer
MGA, which is behind this particular 3 reel slot machine, is a company that has managed to develop quite a few interesting slots already, games that I enjoyed trying out, even though they're mostly available at casinos from Spain. A couple of good games that I would recommend include Mision Espacial, Beach, Amazons, Mr. Magnifico and La Taberna.
How To Play It
The betting will be done with 5, 15 or 25 credits per spin, and you will be allowed to change how many coins you're using basically, but not how much they're worth. The coin denomination is at $0.20, and so you can spend anywhere between $1 and $5 per spin in this game.
It's a look that doesn't appear to be classic, even though the layout and the symbols might suggest that. You have a treasure map that's being used all around the reels, the columns looking like they're placed behind the map, visible because the paper was roughly cut to shape.

T&Cs Apply 18+
Special Features
One of the things you're going to have in the game is Nudges. These are options that you get, to push reels into position, when the symbols are not aligned on the line, but they're visible above or below it. The Nudge will move them so that the win can be yours from that combo.
Wild symbols, with the Treasure Map icon, are present in the game and they're going to be great for forming combinations together with any other icon. They're not advertised as being capable of paying you themselves. One free spin is offered by the combination of three Rum Bottles forming on the only line available.
Another feature to look forward to in this game is going to be offered through the Bonus icon, the one with the Pirate Coin. You can trigger this bonus game with one, two or three symbols.
Maximum Payouts
The slot has high rewards if you tend to wager big, so in exchange for 25 coins per spin, you can win 5,000 coins from it, or $1,000. There is also a jackpot of sorts, which can be won through the special features.
Summary
El Tesoro Pirata 5000 is not exactly a classic slot machine, but it borrows enough from them that it will feel like a familiar choice for players.
T&Cs Apply 18+