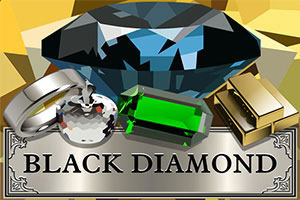 Black Diamond will not have as impressive of a theme as you might expect, or hope at least. The black diamond that is mentioned by the title can be found among the symbols, and unfortunately the rest of the icons will pretty much feature the same kind of image.
This means that you're getting a lot of colored gemstones from this slot machine, starting with the black one, with a red apple like ruby, with gold bars, but then continuing with the various opals, sapphires, emeralds and so on.
The background doesn't do much extra to improve the game, simply featuring big snow covered mountains, presumably showing where all those stones originate from.
Developer
I've seen considerably better slot machines being released in the labs of the guys from Pragmatic Play. They have a pretty large collection already, with 150+ games offered to be played online at casinos.
More than half of them are accessible for mobile devices, which is a must in this day and age. Black Diamond is not my favorite title from them though, and they have much better slots to offer than this.
How To Play It
Though the number of lines will vary in many of their games, the line bet is often the same way, using up to 10 coins and allowing for denominations of up to $0.50. You can get up to $5 line bets, with the 25 lines of Black Diamond allowing for as much as $125 to be spent each time you click on the Play button.
I'm not a fan of the design that Black Diamond brings us, mostly because of the choice of theme. If it was an adventure theme where you're going after some black diamond treasure, it would've been more fun than the gemstone design that they ended up with.

T&Cs Apply 18+
Special Features
One of the three symbols which you can use in Black Diamond, for the features, is the actual symbol which shows us this precious stone.
The Black Diamond Wild is an important feature of the game, probably the one that you will take advantage of most often, since even a single one can be of use to you. It's used as a replacement, naturally, and only where regular icons are concerned.
The Ruby symbol, which you will sometimes see on the 1st and 5th reels, will trigger 10 free spins whenever they're both in position.
The bonus game is the last one, and the requirement is to have the Gold Bar symbol on the columns 2, 3 and 4, at the same time. The payouts can apparently get as high as 600x.
Maximum Payouts
The best regular combination that you can land in Black Diamond is going to use a red diamond symbol, and it will pay up to 6,000x. This could translate into a jackpot of $30,000.
Summary
Black Diamond pays very well and it has all the right features, but there aren't enough bells and whistles to make it fun.
T&Cs Apply 18+