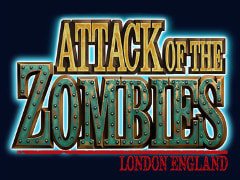 From Attack of the Zombies, you're going to get a bit of action, and it's related to a zombie attack on the city of London. The four heroes are all girls, armed with blunt or bladed weapons that are appropriate for the task.
Their adversaries are six zombies, former members of the royal family and of the court, a jester being present among them, while a few others are wearing crowns.
Brains and zombie crowds aren't missing from the feature list either. This particular theme has a few other slot machines on the market, so the game isn't entirely original here, even though it does have its unique angle related to London.
Developer
The creator of this game is called Genesis Gaming, a company that has been doing this for over 8 years. They've built more than 150 slot machines and other types of casino games, and as you can see, they can do great work when they try.
Their collection of slots includes some less interesting titles, mostly because they have older graphics and don't look as good. I would include Arabian Caravan in that category, along with Alaxe in Zombieland (another zombie themed title). Other games look modern and pretty interesting, especially feature wise.
How To Play It
You have full control over the wagers that are going to get the reels going. There are a maximum of 50 win lines to be activated, and I'd recommend you go with all of them, even though this will require the use of 50 coins each spin.
The line bet, or the coin value, will have a range between $0.01 and $10, which means that the maximum bet will get up to $500.
All your options are found at the bottom, easy to find and change as you need to. The betting options are grouped together on the left side, while the rest of the options and the Spin button are on the right. In the middle you have a couple of displays.

T&Cs Apply 18+
Special Features
Look out for the Brain wild, to see the symbol which will help you by acting as a replacement. You can form your combinations using both Brain and regular symbols together, not just matching icons.
The wilds are not capable of helping with the scatters though. With 3 to 5 Brain symbols arranged from left to right on the same line, payouts will be offered directly by them, reaching even values of $7,500 (750x).
The scatter is another major symbol to get, but not because of its payouts, which are pretty small. Instead, the bigger reward consists of a feature with free spins in it. Both for the prizes and for the free spins, the requirement is to land 3+ Bonus scatters in view.
The feature you get is called Antidote Free Spins, and they will go on for as long as you still have human characters in zombie form.
The four human ladies are made into zombies as the free spins begin, and they are transformed back and made into wilds as you get Antidote icons on the 3rd column. The features end after you get all four human ladies turned back into their original selves.
Maximum Payouts
The big payouts in Attack of the Zombies are delivered by the wild, and with wagers at $10 per line they will give you $7,500 cash at most.
Summary
Attack of the Zombies has some interesting upsides, so I think players will tend to enjoy playing it, even with the low top payouts that it offers.
T&Cs Apply 18+